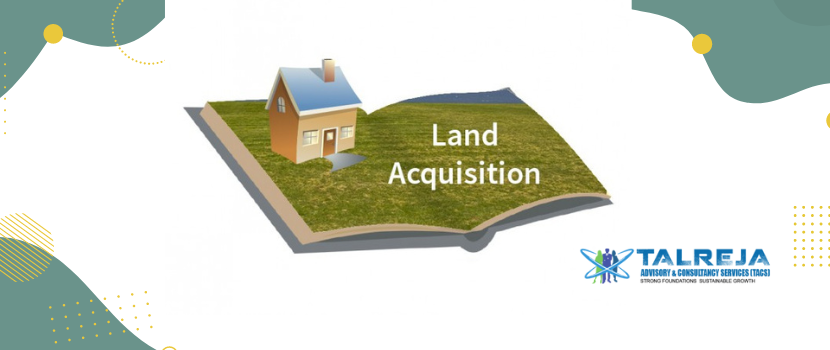 Land acquisition & aggregation services are essential for infrastructure and real estate development projects. These services are essential for bringing together adjacent property parcels to promote extensive development and urbanization. This essay will examine the role that land acquisition and aggregation services have in promoting development and growth.
The Significance of Land Acquisition & Aggregation Services

For many undertakings, including infrastructure development, industrial growth, urban planning, and commercial endeavors, land acquisition and aggregation services are essential. They make it possible for interested parties to efficiently buy and combine relevant land lots.
Recognizing the Land Purchase Process

Negotiations with landowners, establishing just compensation, and obtaining legal title to the property are all part of the land purchase. To guarantee a just and open process, this process must abide by local rules and regulations.
Aggregation's Function in Development
The process of uniting several small property plots into one bigger tract is known as aggregation. By streamlining the development process, this consolidation increases efficiency and lowers costs for investors and developers.
Getting Around Legal and Regulatory Obstacles

Land aggregation and purchase must traverse a complicated legal context that may include environmental reviews, zoning laws, and community involvement. Compliance and efficient implementation are ensured by professional knowledge.
Optimizing Land Use Planning to Increase Land Utility
Better land use planning is made possible by effective land aggregation. It maximizes the potential of the purchased property for the intended use. This guarantees the optimal use of resources and reduces waste.
Infrastructure Development Improvement
Land aggregation is essential for creating transportation networks, utilities, and public facilities in the context of infrastructure development. It opens the door for more planned and environmentally friendly urban expansion.
Creating Scale Economies

Land acquisition & aggregation services produce economies of scale that are beneficial for large-scale projects. Land consolidation lowers total expenses and improves the project's feasibility financially.
Urbanization And Planned Development Made Possible

To achieve planned and sustainable expansion of cities and towns, land acquisition and aggregation services are essential.
Managing Land Fragmentation: A Solution for Disjointed Parcels
When parcels are gradually split into smaller portions over time, land fragmentation develops. Contiguous land tracts are formed and coherence is restored through aggregation.
Protecting the Interests of Landowners: Fair Compensation and Negotiations
The rights and interests of landowners must be upheld during the whole property-purchase process. Fair remuneration and open communication during negotiations foster collaboration.
Sustainable Development as a Response to Environmental Concerns
Environmental evaluations are included in expertly managed land acquisition and aggregation services, which also support sustainable development methods.
Land Acquisition for Special Projects: Industrial Parks and SEZs
To construct special projects like industrial parks and special economic zones (SEZs). This promotes economic growth and job possibilities, land acquisition and aggregation are essential.
Collaboration in Public-Private Partnerships (PPP)
Land acquisition and aggregation initiatives could entail public-private partnerships that pool resources and knowledge for effective development.
Initiatives for Affordable Housing: Land for Social Development
Land consolidation helps affordable housing programs. This makes it simpler for developers to come up with housing options for the expanding population.
Conclusion
For real estate and infrastructure development projects to be successful, land acquisition and aggregation services are essential. With their knowledge, developers may combine property pieces, reorganize procedures, and build thriving, sustainable communities. These services open the door for responsible and inclusive growth by assuring equitable remuneration, adherence to rules, and community involvement.